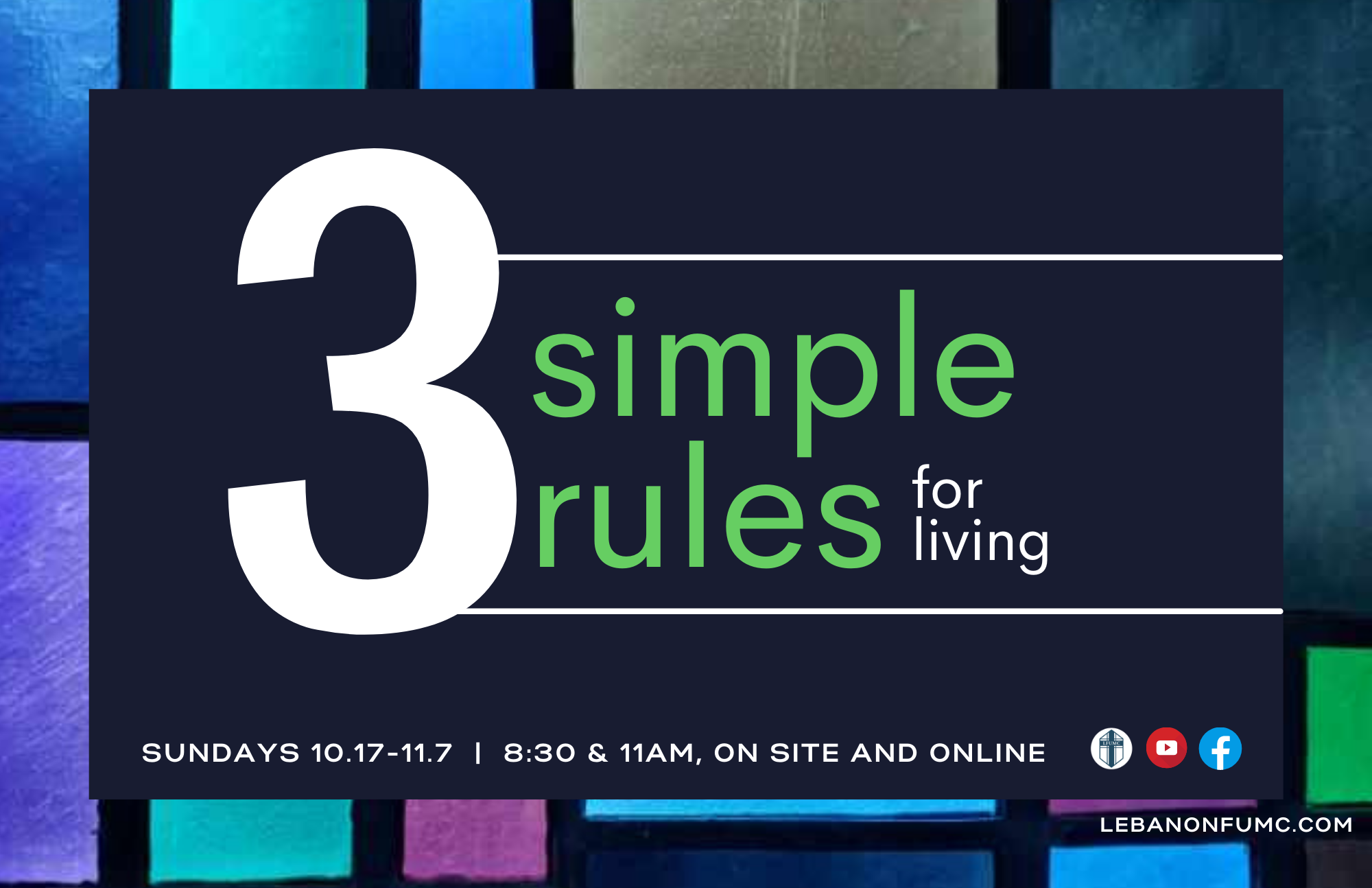 10.18.21

|

Stories

| by

Lucinda S. Sutton
Greetings in the Name of Jesus!
Yesterday we began a new sermon series called "3 Simple Rules for Living" based on the General Rules given to the church over 250 years ago by our spiritual father, John Wesley; they are still very much relevant today. Then, about 14 years ago, a United Methodist Bishop streamlined the General Rules into 3 Simple Rules and into an easy-to-remember synopsis: Do no harm, do good, and stay in love with God. Both of these men's writings point us toward Jesus's teaching that the whole of the law can be summed up by loving God with all of your heart, mind, soul, and strength and loving your neighbor as yourself.
Our sermon series is about stewardship, however, I really do not want stewardship of money to be our focus. We need money to operate and carry out our ministries, but you have been and continue to be supportive of this church's financial needs. We have done amazing ministry in a time when the world has been turned upside down. I am really proud of this church and proud to be your pastor.
Where I think this church can make the biggest impact is in how we steward our lives, our emotions, and our disagreements in a way that shows our love and care for one another, all in front of a world that is forgetting how to do those things. The 3 Simple Rules, if we live them out, help us model another way. So, we will be talking a little about stewardship of money this month because we need money to operate, and about how we steward the mission of the church over the next year because that, too, is important. Yet we will primarily be focusing on how we as followers of Jesus steward our lives in a way that both pleases God and draws people to Jesus by doing no harm, by doing good, and by staying in love with God.
As always, I ask you to provide your best estimate of what you are able to give toward our budget and special accounts (including the missions fund, which fuels our hunger ministries and the capital improvements fund, which helps us upgrade the campus for ministry). These estimates are non-binding, as we know circumstances change. They simply help us build our budget and plan ministry for 2022 around what resources will be available. On November 7th, we will consecrate these first-fruit pledges of 2022 during worship. You may bring the enclosed card with you to worship that day, fill out the digital pledge card (above), or mail your card to the church before 11/4 (only our Business Manager, Cori Brantley will receive pledges in all forms and make sure they are included in Consecration Sunday). If you have questions regarding anything giving-related, feel free to contact Cori at 615.444.3315 or .
Most importantly, I hope we all will engage in this stewardship series by looking within our lives and seeing how we can better apply the 3 Simple Rules in order to model a better way for our divided world. I truly believe this may be the most important witness we can offer our community in this season as we seek to love and serve Lebanon.
Blessings,
Ryan