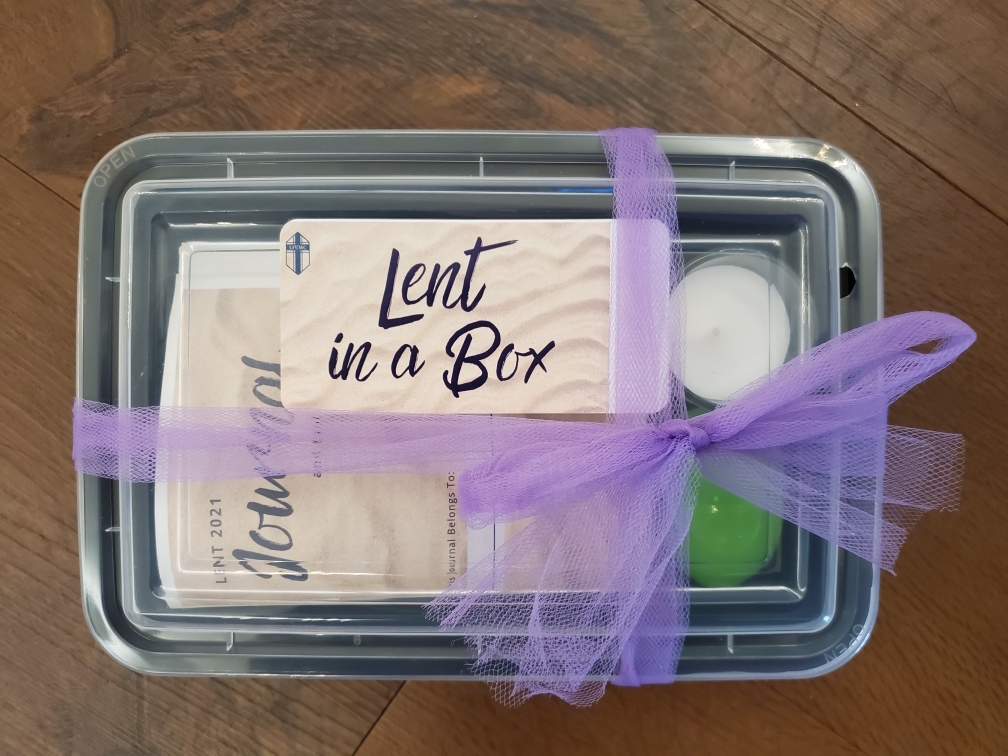 02.11.21

|

Stories

| by

Lucinda S. Sutton
Ash Wednesday is coming up this week, and with it the beginning of the season of Lent. As always, we are committed to equipping our members and friends with everything you need for meaningful celebrations at home, online, and on site. Here are a few tools for you to get started as we begin our Lent journey together:
1. Pick Up Your Very Own Lent-in-a-Box from the Church
Contains a Lent 2021 Journal (with daily Bible readings and original activities for each Sunday in Lent), a Lent Bible Reading Plan bookmark, and specially curated Lenten Journey elements for each Sunday's activities denoting milestones in Jesus's life, (If you can't get to the church, please contact us and we'll send a box to you!)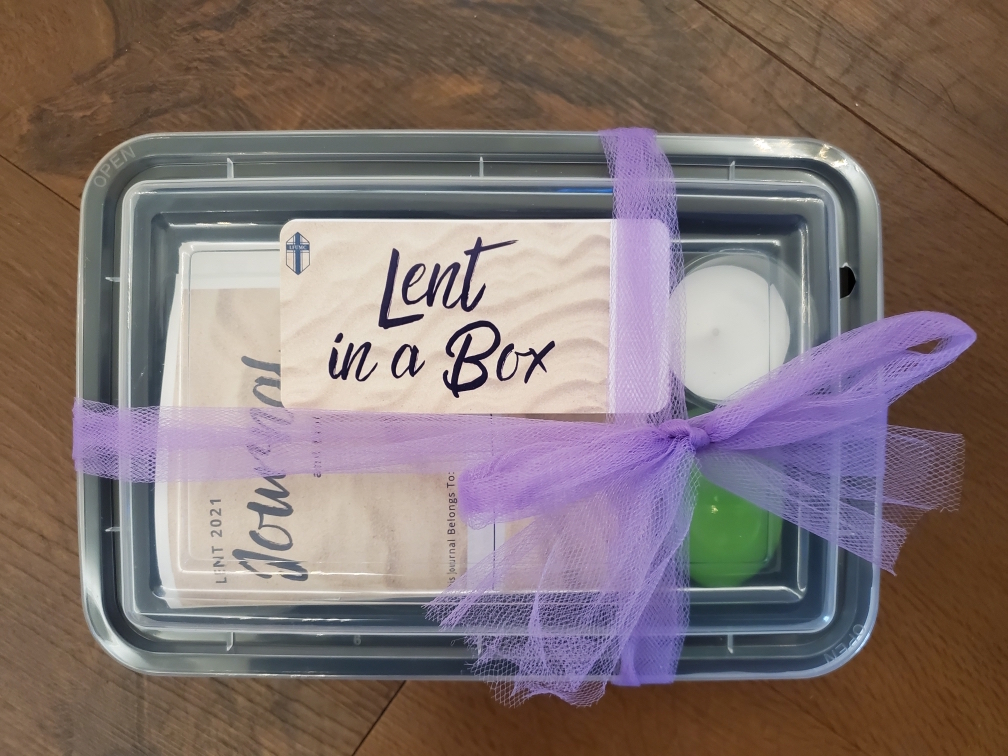 2. Create a Lenten Sacred Space at Home
Whether it's a full-on Prayer Closet or a humble side table, you can create your own unique sacred space at home. Whatever it looks like, set your space in a prominent place to display your Lent elements and keep you focused on Jesus all the way to Easter.
3. Attend Lebanon FUMC's Worship and Special Services, Beginning with Ash Wednesday
As in every Lent season, Lebanon FUMC will be hosting special services for Ash Wednesday, Palm Sunday, Maundy Thursday, Good Friday, and Easter Sunday. In addition, Pastor Ryan will be presenting a new sermon series, "How to Neighbor," from February 21 through Palm Sunday. All services will take place both online (here on our home page as well as on Facebook and YouTube) and on site with health and safety protocols (barring any unforeseen changes in Covid conditions). Services are available for replay on YouTube anytime.
4. Read Along with Our Lent 2021 Bible Reading Plan
This plan is designed to take us through all four of the Gospels together, with rest days on Sundays. Prepare your heart and mind for Easter as you compare and contrast the complete accounts of Jesus's birth, life, death, and resurrection.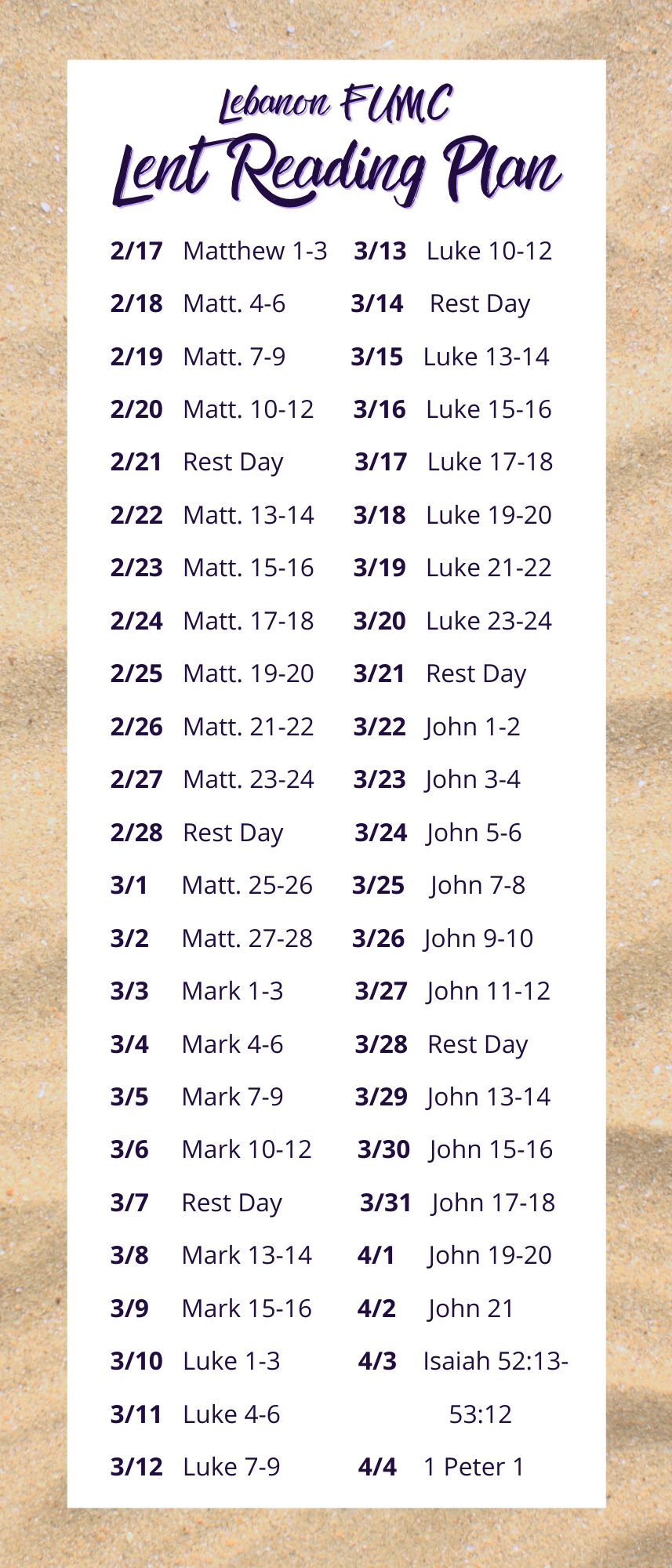 5. Participate in Our Lent Dinner Box Food Drive
From Ash Wednesday through March 21, collect food items from the list and bring them to the collection are in the Family Life Center. All items will go to our Easter Dinner Box Giveaway for the community happening on April 3.

6. Join Our Invitation to John Bible Study
This study will be led by Pastor Bucky. All classes are available both online (via Zoom) and on site (with protocols) according to your comfort and safety. 2 opportunities to join: Wednesday mornings, 3/10-5/19 from 10:00-11:00 AM or Wednesday evenings, 3/10-5/19 from 6:00-7:00 PM . To sign up, please fill out the form here. You may purchase a book from the church for $10 or bring your own (purchase options here). If you would like further information, please contact Pastor Bucky at or 615-497-4180.
7. Share Your Lent Journey with Family and/or Friends in Community
Set aside some special time (over a meal, on a walk, during a remote gathering or call) to discuss your favorite parts of Lent and why you find them meaningful. Follow us on Facebook, Instagram, and Twitter - and join our Facebook Community Group! - to share your experience with others in our community and congregation as well.